Firebee Dispatch #13: Play in the ashes of what you once were
Our busy period at work is finally over. FREEEEEEEEDOOOOOOOM!
What I'm Up To
Finished up the super-busy period at work.
Doing more yoga. I have been faithfully going twice a week, and it is really helping me relax.
Watching more film. Once upon a time, I was a huge film nerd. The tech community kinda killed that as it killed the rest of my soul. After leaving the tech community, it's slowly coming back. Hurray!
Dreaming of one day opening a cat cafe.
Recommended Reading & Current Events
The Other Side of Diversity by Erica Joy. This is a really important piece about Erica's experiences working as one of very few black women (and black people, in general) throughout her career. She calls out something important that many overlook. The cumulative stress of being different in a homogeneous environement does very real physical and emotional damage.
Rethinking Allyship by Mattie Brice.
[Being] part of a particularly marginalized group is really frustrating, especially when you're tasked for educating an entire artform and industry. People who say they are allies, with completely good intentions surely, form exploitative relationships instead of ones of care and mutual interest. These alliances tend to be particularly transactional, usually exposure for the marginalized so the powerful can cash in on their cultural capital, and is always more of a deal for the latter.
The meritocratic glow of Silicon Valley is so frustrating. It creates a pass for people who use things like the "culture" filter. What's the culture filter? An easy excuse to be prejudiced.
Why is "Did you do this for somebody just because they're black" an insult? "Did you do this for somebody just because they're white?" isn't an insult, and that happens all the time.
I want black people to be massively, undeniably successful, so that nobody can say anything.
In the News
In this week's news, mainstream news outlets are awful.
MSNBC gave screen time to a fucking KKK leader (Arturo Garcia at Raw Story) who threatened violence against the protestors in Ferguson. I hate 24 hour news networks so much.
Time magazine suggested banning the word "feminist" (alongside a bunch of other words, many of which are slang more frequently used by people of color). No, I am not linking to that garbage.
Mass Media Musings
Film
Want to see me review a film? Submit a recommendation.
Snowpiercer
As promised last week, I wrote a review (spoiler warning).
I have been slowly working my way through David Cronenberg's films. I try to space them out to minimize damage to my psyche. This is definitely a Cronenberg film. It oozes (both literally and figuratively) Cronenberg. I don't love the film, but it was worth seeing once for my brain's film catalog.
I found myself wanting to yell "ACTUALLY, IT'S ABOUT ETHICS IN GAMES JOURNALISM" at the screen repeatedly throughout the film.
Everything is gross and icky because Cronenberg.
Interesting commentary on the blurred lines between reality and the fantasy world of gaming.
Television
I am a little bit into season 4, and it is pretty meh, so far. Hopefully I'll have something more entertaining to report back on next time.
My Writing
I wrote a review for the film Snowpiercer. It includes some silly notes similar to my old film livetweeting. Warning: review contains some spoilers.
Want me to review a film? Submit a recommendation.
Julie's Cooking Corner
The corner of the dispatch where I show you my attempts at cooking to help readers who are also inexperienced cooks.
Chicken & Chana Masala
This is a quick and easy dish to make. It reheats well, so I tend to make a ton of it and have the leftovers when I don't have time to cook. I mix together chicken and chickpeas, but you can make this with just chickpeas (good for vegetarians) or just chicken (good for people who hate chickpeas---I am judging you).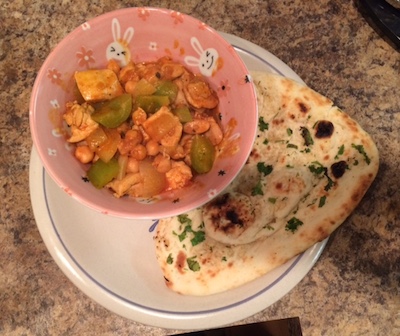 Ingredients
Can of chickpeas (also labeled as garbanzo beans)
Skinless boneless chicken thighs (would likely work well with chicken breast too, but I haven't tried it)
Peppers of your choosing (I usually use two green bell peppers)
Onions (I usually use one large onion or two small ones)
Masala simmer sauce (I usually use Trader Joe's or Patak's. You can find the latter at most grocery stores.)
Minced garlic (I usually buy the pre-minced stuff, but you can mince it yourself).
Naan (I usually buy the frozen garlic naan from Trader Joe's).
Garam masala
Cumin
Tools
Pan suitable for simmering (I use a deep pan with a top, so I can make a bunch of food).
Knife for cutting up veggies and chicken (I use this one).
Directions
Turn on your oven to preheat for warming up the naan (refer to packaging for exact temperature).
Dice peppers and onions. Mince garlic. Cut up chicken into small pieces.
Heat up the pan and start cooking onions.
Add garlic and peppers.
Add chicken and cook it until it is lightly browned.
Add simmer sauce and chickpeas. Stir and cover.
Simmer for ~15 minutes, stirring occasionally. Add spices (garam masala, cumin) to taste.
Put in naan a few minutes before the simmering is done.
Eat some of the delicious food. Save the rest for leftovers.
Miscellany
Cuteness
This is Leon modeling my new mochi bunny friend.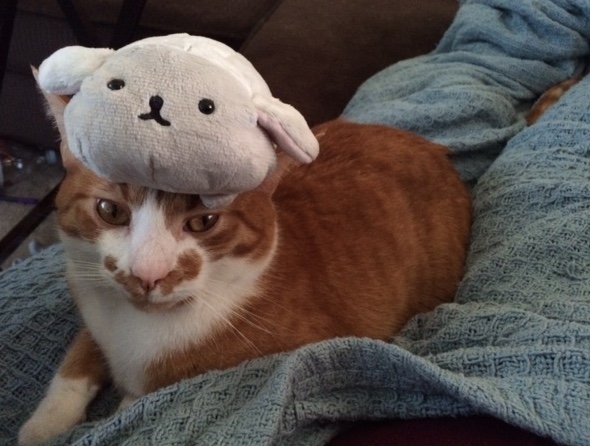 Check out pictures of the shelter cats from my volunteer work this week.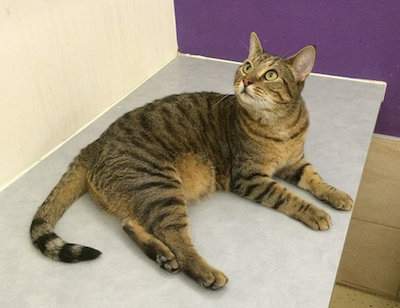 Promotion
Donations Needed
Your local food bank. Winter is coming, and that is a rough time of the year for a lot of people. Help make sure they can get something to eat.
Quirell via Indiegogo. Quirell is a social network currently in the planning stages being developed by queer/trans collective CollectQT. Quirell differs from traditional social networks in that it aims to be a place for marginalized community members and others to escape the noise and over-saturation of traditional social networks.
Newsletters
Technically Speaking a new newsletter from Chiu-Ki Chan and Cate Huston with CFPs and information on public speaking, with a focus on technical topics.