INACTIVE POST – For a Limited Time Only: Looking for Work
This is no longer an active post. I accepted a job offer and am no longer looking for work. I am leaving the post up for archival purposes after receiving requests to do so.
Disclaimer: I am not interested in hearing from independent recruiters, recruiting firms, etc. This post is not for you. Everyone else, continue on! This post will self-destruct when I find a new job.
For a limited time only, I am on the market for a new job. A bunch of friends asked what I was looking for, so I decided to put it all in writing rather than repeat myself many times. Please take a look and get in touch if you think I would be a good fit for your organization and vice versa.
FAQs
Last updated 2015-04-23 at 6:30pm
Why do you want to move to Portland?
I've been in Pittsburgh a long time (~12 years), and it's no longer a good fit for me. It's time for a change. I spent a bunch of time in Portland last summer for AdaCamp and OSBridge and fell in love with the city. My awesome friends in Portland are lobbying hard for me to move. The tech community there sounds welcoming. And a hundred other little reasons.
Bonus: I am told it will be socially acceptable to push my cat around in a stroller there.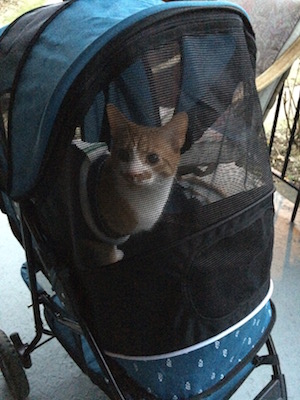 Why are you leaving Google?
Working at Google for the last 2+ years has been really valuable for my growth as a software engineer. I learned a lot and expanded my skills. I am grateful for the kind and talented people I worked with during my tenure there. However, just like Pittsburgh, Google isn't the right fit for me any more. Below are some reasons why.
Google does not allow remote work and there aren't opportunities for me in Portland.
Working for a huge megacorporation is not a good fit for me. It was a beneficial learning experience, but I am hoping to move somewhere smaller. Up side: most tech companies are smaller than Google.
Google has a very bad case of not invented here syndrome (often for legitimate reasons). This makes it difficult for me to keep up with the latest and greatest in front-end web development, and I do not want to fall behind in my field.
It was difficult for me to maintain good work/life balance at Google. I want something more sustainable.