Year in Review 2015
2015 is coming to a close, so it is time to continue my habit of reviewing the year. 2015 has been a terrible, awful, no-good year for me, but writing about it helps.
This year, I'm taking it month by month. I'm also channeling teen Julie and providing a digital mix tape to go with it --- a song for each month. It's a mix of old and new music that meant something to me this year.
January
The Knife -- Heartbeats
I set some goals for the year. I failed to keep most of them for reasons that will become apparent in the months to follow.
I gave my only conference talk of the year at CUSEC. I had a lovely time and still think about it fondly. I'm glad I gave my last talk there --- still not sure if I'll return to speaking. My only regret is that Montréal was a bit too cold to explore.
I visited friends in San Francisco and attended my first AlterConf in Oakland. I had a great time seeing my Bay Area friends. AlterConf was intense and draining, but in the good sort of way. I was glad we pre-gamed at the local cat cafe.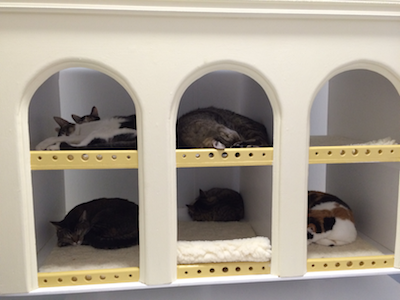 A collection of sleepy cats at the cat cafe.
At AlterConf, Porpentine said something I still think about.
Like, in feminism there's this pressure to be strong and brave and absorb a lot of pain. I don't want to be strong. I want to be happy.
After the last few years of stress from work, activism, and my personal life, this really hit home. I don't want to be strong. I want to be happy. The status quo of my life was strength, but not happiness. It was taking a toll.
I decided on this trip that I needed a change. I turned my passing interest in the west coast into a goal. In a year, I would move to the west coast. Very likely Portland, a city I fell in love with when I visited for Open Source Bridge the previous year.
February
Metric -- Blindness
In late February, I had a pulmonary embolism. My blood turned against me and filled my lungs with clots that made it hard for me to breathe, hard for my heart to pump blood past the obstructions. I almost died.
I spent a week in the hospital --- about half of it in intensive care. I was put on strong blood thinners and then eventually coumadin, a drug that is also used as rat poison. Eventually I was allowed to switch to a new blood thinner with a massive price tag and a recommendation from Kevin Nealon and Arnold Palmer.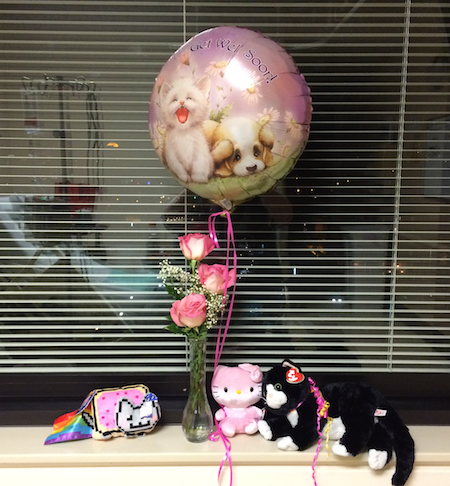 Get well gifts from friends and family.
I would be on blood thinners for most of the year, afraid of cutting myself or falling. My blood clots too much, it kills me. My blood clots too little, it kills me. I sardonically referred to this dangerous balance as "murderblood."
The pulmonary embolism was likely caused by a perfect storm of:
Many people who heard about what happened shared their own stories about blood clots caused by birth control. Estrogen is a hell of a drug. I'm still angry at my doctors for downplaying the risk of being on it for so long.
March
Lilly Wood & The Prick -- Joni Mitchell
In March, I went home from the hospital and spent several weeks on recovery. My body was still really messed up from the pulmonary embolism, so I was tired a lot of the time. I still get tired more often than I like because my body isn't 100% back to where it was before this happened.
The week after I came home, Kelly Ellis went public about the harassment she dealt with when she worked at Google. I remembered her from when she worked there, but hadn't known this was why she left. The responses from the outside world and the world inside Google upset me deeply. A couple women had quit over unfortunate circumstances there while I was in the hospital. Another just a few months prior. The hypocrisy of the company I worked for on the topics of diversity and attrition weighed on me.
Almost dying put some things in perspective. I did not want to die in Pittsburgh, Pennsylvania doing work I didn't enjoy for a megacorp that frustrated me. I took several weeks of unpaid leave to regroup mentally and start looking for jobs in Portland.
I also bought Leon a stroller.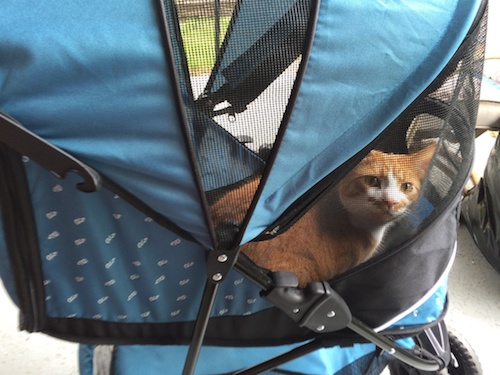 April
Passion Pit -- Lifted Up (1985)
I flew out to Portland to interview for jobs. The interviews can best be described as a series of unfortunate events. I gave up and resigned to returning to Google. Job searching was stressful, and I was still in pretty bad health. I would try again next year.
In late April, I returned to work. I was anxious after what happened in my absence. My return coincided with a rare event at our remote office, a visit from an executive and an opportunity to ask questions. My heart racing, I asked about the hypocrisy of second shift work. How Google claims it cares about diversity, but much of the diversity work it promotes falls on the backs of underrepresented employees who will not be rewarded for that work, especially in the promotion process. That it leads to burnout. The response boiled down to "Diversity work should be its own reward. Everyone deals with burnout."
I was unhappy at Google for some time for a laundry list of reasons including boredom with my project, poor support for frontend engineers, bureaucracy, bad work/life balance, and hypocrisy around diversity issues. Someone so high up in the company hitting hard on that last one was the straw that broke this camel's back.
The next day I handed in my resignation and wrote a goodbye letter explaining why I was leaving.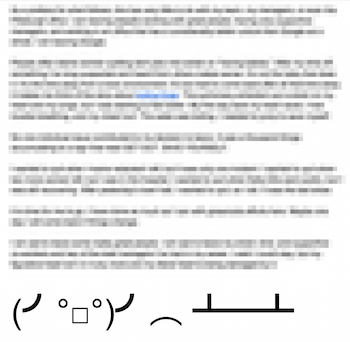 A heavily redacted screenshot of my goodbye letter. I've debated sharing all of it, but I'm concerned about backlash.
I collected my thoughts and started a second round of searching for a job to take me to Portland, this time very publicly. Writing down what I was looking for was valuable. I recommend it even if you're looking quietly and can't publish it.
I turned 30 this month. Unlike others, I did not stress about this birthday. I was happy to age.
May
Melanie Martinez -- Mad Hatter
I accepted a job offer from SEED, a tiny, early stage startup, the last place I would have expected to end up. I was very excited and planned to start in June. They offered to pay for relocation, so I started investigating options to move. I was pretty desperate to get the hell out of Pittsburgh.
Before starting the new job, I drove down to DC to visit my friends. I had a lovely time and got to see an adorable ballet version of Alice in Wonderland, one of my favorite books.
June
Talking Heads -- This Must Be the Place (Naive Melody)
I started my new job at SEED working remotely from Pittsburgh. It was exciting to build the web application from the ground up using React. I really liked my coworkers. I made the right choice about where to work.
I continued planning my move. It was a lot of logistics for one person to manage in a short period of time. Nikita and Leon helped.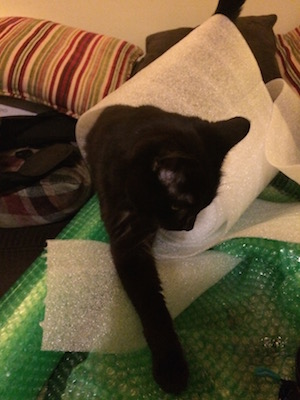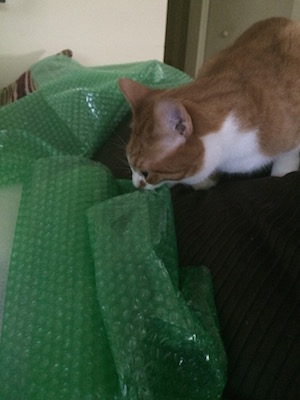 I grumped at GHC again and wrote about forms and personal information.
My younger sister (and only sibling) died unexpectedly. Going home and dealing with the funeral was hard. Out of respect for my parents, I am not going to write anything else publicly about this.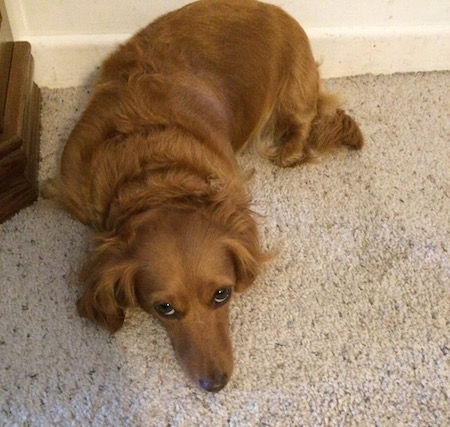 I was very thankful for the adorable dog during my visit home for the funeral.
Shortly after the funeral, I flew to Portland for Open Source Bridge and AlterConf Portland. Kronda gave a badass keynote about tech companies and diversity. Considering my year, it hit close to home.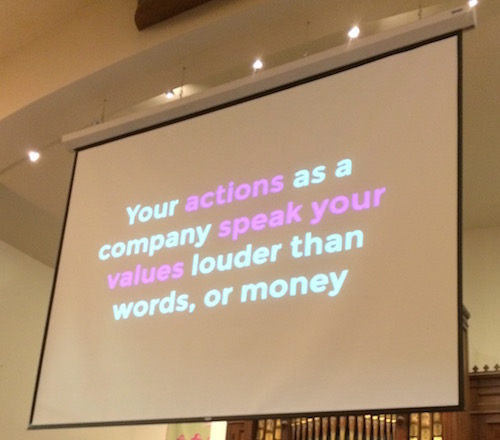 photo of Kronda's slides
I vaguely recall having a nice time, but not much else. I was pretty distracted by my family situation. While there, I got the keys to my new apartment.
July
Bat For Lashes -- Travelling Woman
In July, I finally moved to Portland. It was stressful and exhausting, especially because I got tired so easily post-PE. With the help of my mother, I flew two very cranky cats across the country on a very hot day with delayed flights. Everyone survived, but we were very grumpy when we got there. The cats adapted to their new home as soon as they got food, water, and a view of the giant windows.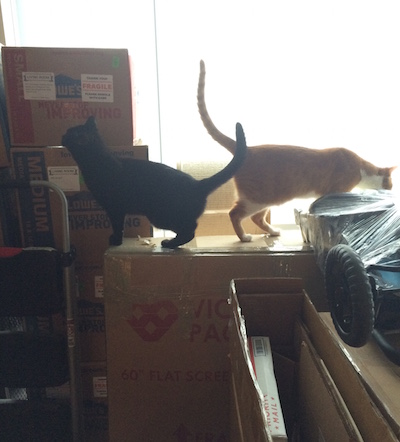 Nikita and Leon investigating my moving boxes in the new apartment.
August
Screaming Females -- Hopeless
Once I settled in to Portland, I wrote a long post reflecting on my job search as a reference for myself and others.
I went to my first concert in Portland. Screaming Females are awesome live. Highly recommend.
September
Bitch Better Have My Money -- Rihanna
I got back the $700 I lost in my first job search. I donated most of it.
The hematologist let me go off the fancy blood thinners. I have to go back on them temporarily for long flights, so I won't be traveling a lot.
I got to see a bunch of people in town for XOXO. I kinda regretted not getting tickets. Maybe next year.
October
Grimes (feat. Janelle Monáe) -- Venus Fly
I attended Open Source and Feelings, an awesome conference run by some friends. I missed part of it because of a false alarm PE scare. I'm looking forward to next year, where hopefully I can give it my full attention.
November
IAMX -- Happiness
I had a lovely veg Thanksgiving with friends. I'm so thankful for the community of friends I have here in Portland. Moving here was the right decision.
I started helping with the new node.js inclusivity working group.
December
Lana Del Rey –- God Knows I Tried
At the beginning of December, I had a nice mini-vacation in Seattle with friends. Lots of good company and a visit to Glowforge to play with lasers.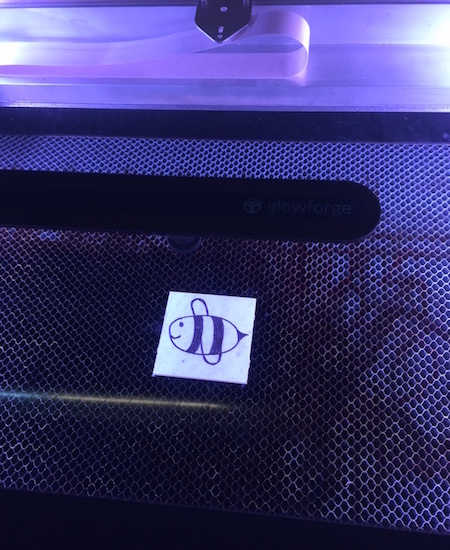 OMG bee in a glowforge!
I wrote about Centralia, PA.
I dressed Leon up for Christmas. My tree is a cardboard scratching post because he can't be trusted with anything else.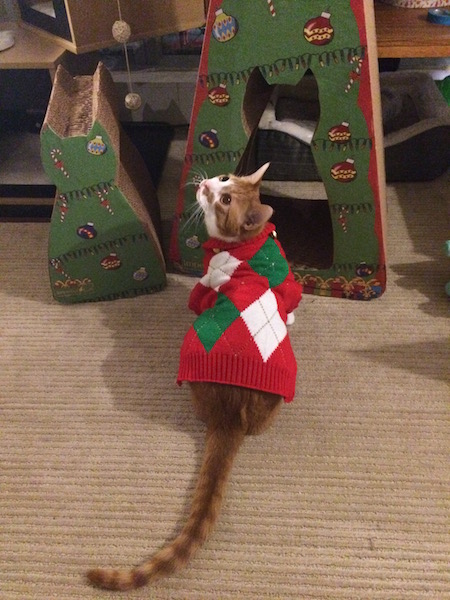 Popular writing
The top 5 most popular posts on my blog this year are listed below. I didn't write much this year, so it's not surprising that some of my popular posts from 2014 are still going strong.
Conclusion
2015 has been the worst year of my life. I barely survived it. A lot of difficult things happened. The bad things forced me to reevaluate. 2015 is also the year I forced myself to make big changes. I don't want to be strong. I want to be happy. I'm not there yet, but I think I'm moving in the right direction.